I did not buy as much as usual this trip. I'm trying to cut back a little. But I did purchase a few things I thought I'd post.
1. Steve Madden black pumps $9.99.
2. Anne Klein brown, heeled sandals $6.99.
3. Anne Klein brown pinstripe blazer $1.29.
4. Dress Barn purple lightweight suede-like jacket $1.29.
Linking up with Thrifter's Anonymous at Colorblind and Visible Monday at Not Dead Yet Style and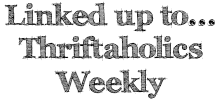 .